---
Browse by area
---
Browse by category
---
---
Japanese postal codes
Akihabara Guide
Part 1
Akihabara Station
We will start our journey through electric town from the main train station JR Akihabara Station, as this will probably be where you'll be arriving when coming to Akihabara. There is another subway station "Suehirohicho" on the Ginza Line at the end of Akihabara though.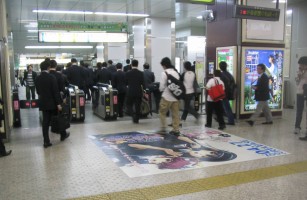 When you get off the train, go down the stairs and look for the signs that say Akihabara Electric Town Exit. As you are about to go through the ticket gate, look on your right and look for some free pamphlets which contain a map of Akihabara. There is one in Japanese and one in English, the one in English contains just an overall list and map of shops, but the Japanese one has quite many in it, but since everything is written in Japanese, this might be a problem and it still won't say what is worth a watch and what is not.
Now go through the ticket gate and you will be greeted immediately by anime advertising on the floor. Go to the left to the main exit, where we will start our tour.
Electric Town Exit
There will probably be many people when you walk out of the station. Depending on the time of day, the ticket machines on the right will be very crowded (even though there are about 20 of them). Depending on the day and weather, there will be people handing out flyers and stuff. The ones closest to the station will probably be girls in maid outfits handing out flyers for their maid cafe. There may occasionally be also other cosplay characters. When you go a further away from the station, in front of the shops, you will see many more of these people, but dressed in their shop outfits. These people may be shouting things through a megaphone or handing out flyers or paper handkerchief packs. These people are less likely to give flyers to foreigners than the maids, but if you approach them and put out your hand, they will gladly give you a flyer.

Front of the station
After you have passed the maids you will have a look at a familiar sight which you probably have seen a few times before when looking for pictures of Akiba. In front of you, you will see the iconic Satou Musen with its escalators in plastic tubes, and to the right of that Radio Kaikan. When looking further to the right, you will see other big shops of chains like Laox, Ishimaru, Gamers and a glimpse of the main road Chuo Dori, which will get to later.
To the left and right of Radio Kaikan, there are 2 narrow streets which contain some of the old shops that sell anything from clocks, transistors, any capacitator you can think of and much more small stuff. Some of these shops are so filled with stuff, you can hardly see the shop keeper. You will find more of these shops arround and close to the train station. These were the type of shops that had opened up after World War, and were a kind of black market of small electronic parts for university students. Arround these shops also grew the first electric district. This is where Akihabara got its name of "Electric Town". You can have a look at these shops, but I will start with the main tour.
We will start with Radio Kaikan. Radio Kaikan has several floors which is a kind of department store that has many shops in it, ranging from manga, anime, figures, hobby, audio, video and computers. The first floor of Radio Kaikan is filled with shops that sell audio and video. Now go to the front of Radio Kaikan, and look for an escalator that goes up.
Arriving on the second floor, we have the famous Kotobukiya store which takes up a hugh part of second floor. Kotobukiya has character goods, many figures, many hobby stuff, gatchapon and some cosplay stuff. Also has some magazine related to figures and hobby.